In 2007, Peter Christiaens started a study on growing plants in a shipping container by using LED lighting in mushroom racks. For innovative idea, he received the 'Eureka Award' in 2008 for his 'Salade á la LED'. Over the years, René van Haeff and Niels Jacobs became involved in the research until the collaboration with Fossa Eugenia member grower Van Dijck Groenteproducties was established in 2012. This resulted in the first order in 2014 for the reconstruction of chicory cells into indoor growing research cells for which the entity Light4Food BV was established.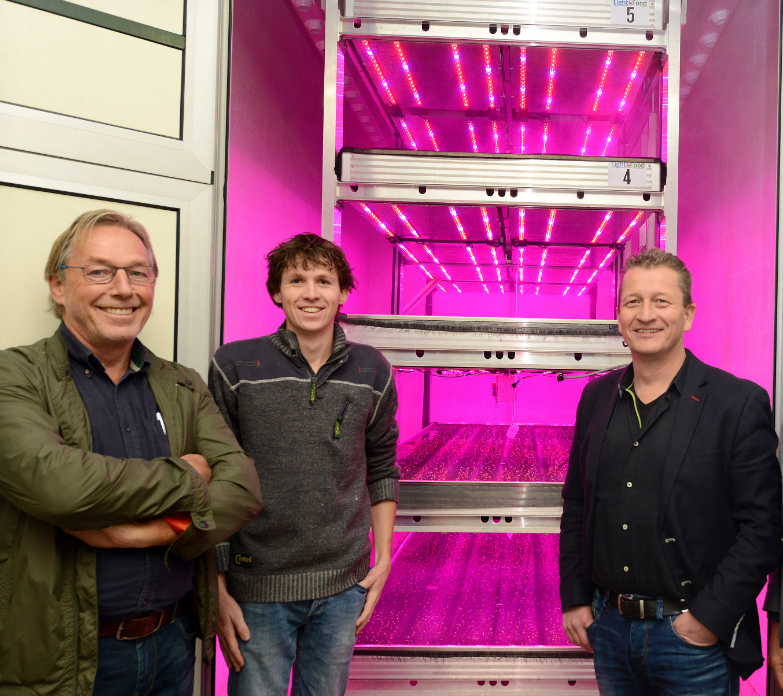 Left to right: Peter Christiaens, Niels Jacobs and René van Haeff
After this project, Light4Food developed the Mobile Climate Chamber and was rewarded with the local entrepreneurship prize the Jo Janssen Award. From day one, the idea was to combine technical expertise with plant science. At that time, developing products based on the interaction between plants and technology was new in the supplier market for the horticulture industry. Our own research, which started in 2007, gave us a head start in both the agronomical and technical field. This led to a partnership with Philips (now: Signify) in 2016 to be able to realize the most suitable LED lighting solutions for customers.
Video Jo Janssen Award
The company continued to grow and in 2017 it had to move to a larger location in order to be able to meet the continuing demand. The year 2018 turned out to be a challenging year with international projects across Europe and North America. This included a partnership with Priva for a climate computer suitable for indoor growing. Finally, the Gazelle award from the Financieel Dagblad (Dutch Financial Times) was also won because the company was one of the fastest growing companies in the Netherlands. In that year, the activities were further expanded with the development and construction of complete machine lines, mainly to mechanize the emerging cultivation on water. In 2019 Light4Food was again rewarded with a Gazelle award from the Financieel Dagblad and together with LIOF the development of a climate chamber for high wire crops was started. This resulted in climate cell number 5 of the Indoor GrowHow Facilities, the R&D test centre of Light4Food. This is also the year in which Light4Food celebrated its 5th anniversary and became a member of the Club of 100 of Wageningen University and Research. In this spirit, together with other participating companies, we continue to lead the way in the development of indoor growing.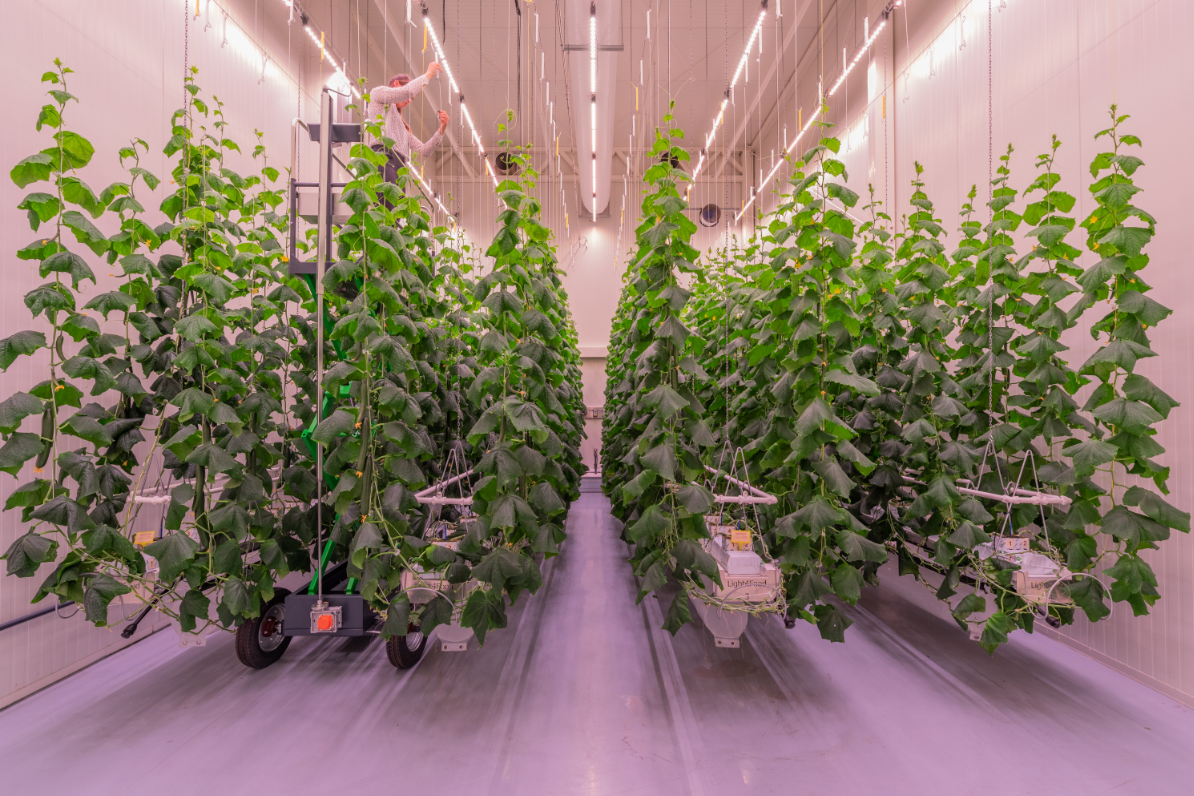 High Wire Climate Chamber, one of our Indoor GrowHow Facilities
In the turbulent year 2020, we welcomed a 12 new employees and moved to a larger production site to continue meeting the increasing demand. Today, the Light4Food team consists of 25 colleagues from different fields of expertise. Together on a mission to provide every part of the world with sustainable, local and fresh food.